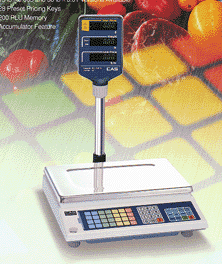 CAS CORP. AP-1
PRICE COMPUTING SCALE

200 Total PLU's
28 Preset Keys
TARE, TARE SAVE, PREPACK,
ADD+TOTAL Features
Total / Weight / Unit Price
1/2 + 1/4 Keys Where Legal
"NTEP" Approved, Legal For Trade

Available in Dual Range Capacity!
30 x 0.01/60 x 0.02 lbs.
BRECKNELL POINT OF SALE SCALES

The Brecknell Scales 6700U series is a standard point-of-sale interface scale for linking to electronic cash registers or POS systems. "Touchless" tare enhances food handling safety. ABS plastic housing with 5½ digits seven segments 15 mm / 0.58" high LCD with blue backlight. This series of Salter Brecknell weighing products features quality load cell and electronics ensure repeatable weight measurements and trouble-free operation.
A bi-directional 9-pin RS-232 and USB port makes it easy to install. Interfaces to most electronic cash registers and point-of-sale software programs. OPOS developer's tool kit available for POS systems integration. This scale replaces the older Avery Berkel style scales from Brecknell Weighing.

SALTER BRECKNELL C3235 CHECK WEIGH SCALE

The Salter Brecknell C3235 is a watertight checkweighing scale for the rapid indication of over, under or acceptable weight in a washdown environment. This checkweigher series is available in three models from 6 lb (3 kg), 12 lb (6 kg) and 30 lb (15 kg) capacity with readabilities down to 0.001 lb (0.0005 kg). This compact and portable scale is specially designed for use in wet environments.
The C3235 is ideal for harsh environments such as food processing, meat and fish markets, chemical and outdoor use. Washable and corrosion free, this product is perfect for almost any culinary, food processing, portion control, packaging, and checkweighing applications. The front panel includes the display window, annunciators, over, accept, under traffic lights, four operator keys and
the level bubble.